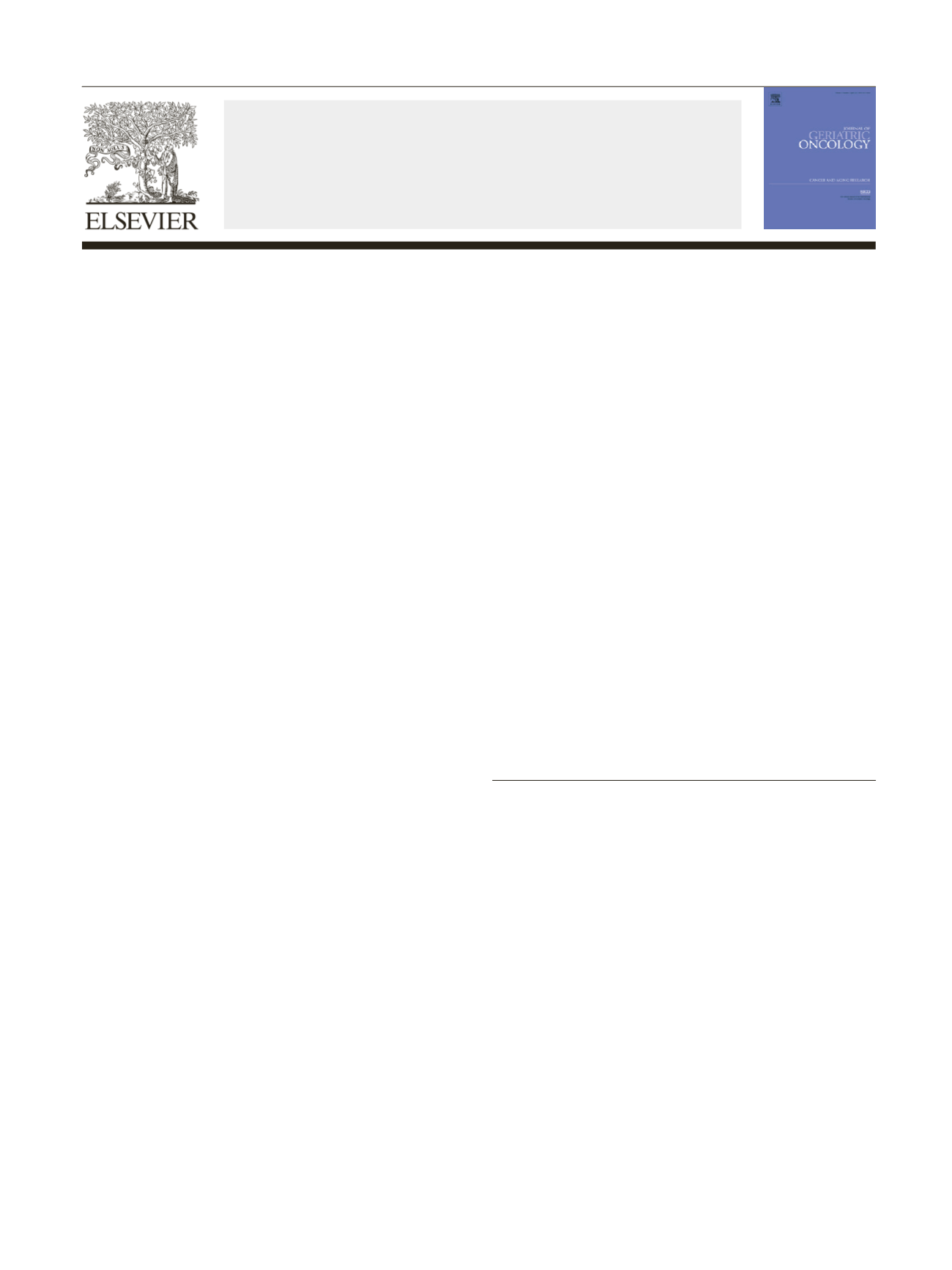 O01
RELEVANCE OF GERIATRIC ASSESSMENT IN OLDER
PATIENTS WITH COLORECTAL CANCER
L. Decoster
1,
*, L. Vanacker
1
, C. Kenis
2
, H. Prenen
2
,
E. Van Cutsem
2
, J. Van Der Auwera
1
, E. van Eetvelde
1
,
K. Van Puyvelde
3
, J. Flamaing
2
, K. Milisen
4
, J. P. Lobelle
5
,
J. De Grève
1
, H. Wildiers
2
1
UZ Brussel, Jette,
2
UZ Leuven, Leuven,
3
ASZ Aalst, Aalst,
4
KU Leuven, Leuven,
5
Consultant in Statistics, Beernem, Belgium
Introduction:
With the aging of the population, the
incidence of older patients with colorectal cancer (CRC)
will continue to rise. Due to the heterogeneity and the lack
of specific trials in this population, treatment decisions are
complex. An important issue is maintenance of functional
status and prevention of toxicity.
Objectives:
The aim of the present study was to evaluate
the relevance of geriatric assessment (GA) in older patients
with CRC and to study predictive markers for functional
decline and chemotherapy-related toxicity during cancer
treatment.
Methods:
Patients with CRC aged

70 years were evaluated
at baseline using a GA. Results were communicated to the
treating physician. At 2-3 months follow-up, activities of daily
living (ADL) and instrumental activities of daily living (IADL)
were reassessed and in patients receiving chemotherapy,
severe chemotherapy-related toxicity was recorded. Deter-
mination of predictors of functional decline on ADL and
IADL and of grade 3/4 hematological and non-hematological
chemotherapy toxicity was performed separately using
univariate and multivariate logistic regression.
Results:
193 patients with CRC were included with a
median age of 77 years. Baseline GA was considered abnormal
in 75% and revealed unknown geriatric problems in 40%.
Treatment was altered compared to standard therapy in
37% based on clinical assessment by the treating physician.
The GA was actively consulted by the treating physician in
78 patients (43%) and subsequently led to a directed geriatric
intervention in nine patients (5%) and additional treatment
change in one. At follow up (n=164), functional decline was
observed in 29 patients (18%) for ADL and in 60 patients (37%)
for IADL. Baseline IADL, depression, fatigue and cognition
were predictors for ADL decline while no predictors for IADL
decline could be identified. In the 109 patients receiving
chemotherapy, stage and baseline fatigue were predictive for
grade 3/4 hematological toxicity and baseline ADL, fatigue
and nutrition were predictive for grade 3/4 non-hematological
toxicity.
Conclusion:
Although GA identified previously unknown
geriatric problems in more than one third of older patients
with CRC, the impact on directed interventions or treatment
decisions was limited. In more than half of the patients the
treating physician did not consult the GA results before the
final treatment decision. Functional decline at 2-3 months
occurs frequently, and baseline GA parameters may predict
functional decline and chemotherapy-related toxicity. Edu-
cation of physicians treating older patients with CRC remains
an essential step in the further implementation of GA and
subsequent interventions.
Disclosure of interest:
None declared
Keywords:
chemotherapy- related toxicity, colorectal cancer,
functional decline, geriatric assessment, older
O02
NATIONAL PATTERNS OF CARE AND OUTCOMES OF
OROPHARYNGEAL SQUAMOUS CELL CARCINOMAS IN
PATIENTS OVER 70
Z. D. Horne
1,
*, J. A. Vargo
1
, G. K. Balasubramani
2
, D. A. Clump
1
,
R. L. Ferris
3
, D. E. Heron
1
, S. Beriwal
1
1
Department of Radiation Oncology, University of Pittsburgh Cancer
Institute,
2
Department of Epidemiology, University of Pittsburgh,
3
Department of Head and Neck Surgery, University of Pittsburgh
Cancer Institute, Pittsburgh, USA
Introduction:
Many of the randomized trials which
established concurrent chemoradiation (CRT) as standard of
care for locally advanced head and neck cancers excluded
patients over the age of 65-70.The added benefit of concurrent
chemotherapy may be mitigated by the increased risk of
complications in elderly subgroups, as highlighted by the
MACH meta-analysis, which showed no benefit from the
J O U R N A L O F G E R I A T R I C O N C O L O G Y 7 / 6 S 1 ( 2 0 1 6 ) S 2 3 – S 3 5
Av a i l a b l e o n l i n e a t
www. s c i e n c e d i r e c t . c om
ScienceDirect
1879-4068/Published by Elsevier Ltd.
SIOG 2016 – Abstract Submission – Oral Presentations