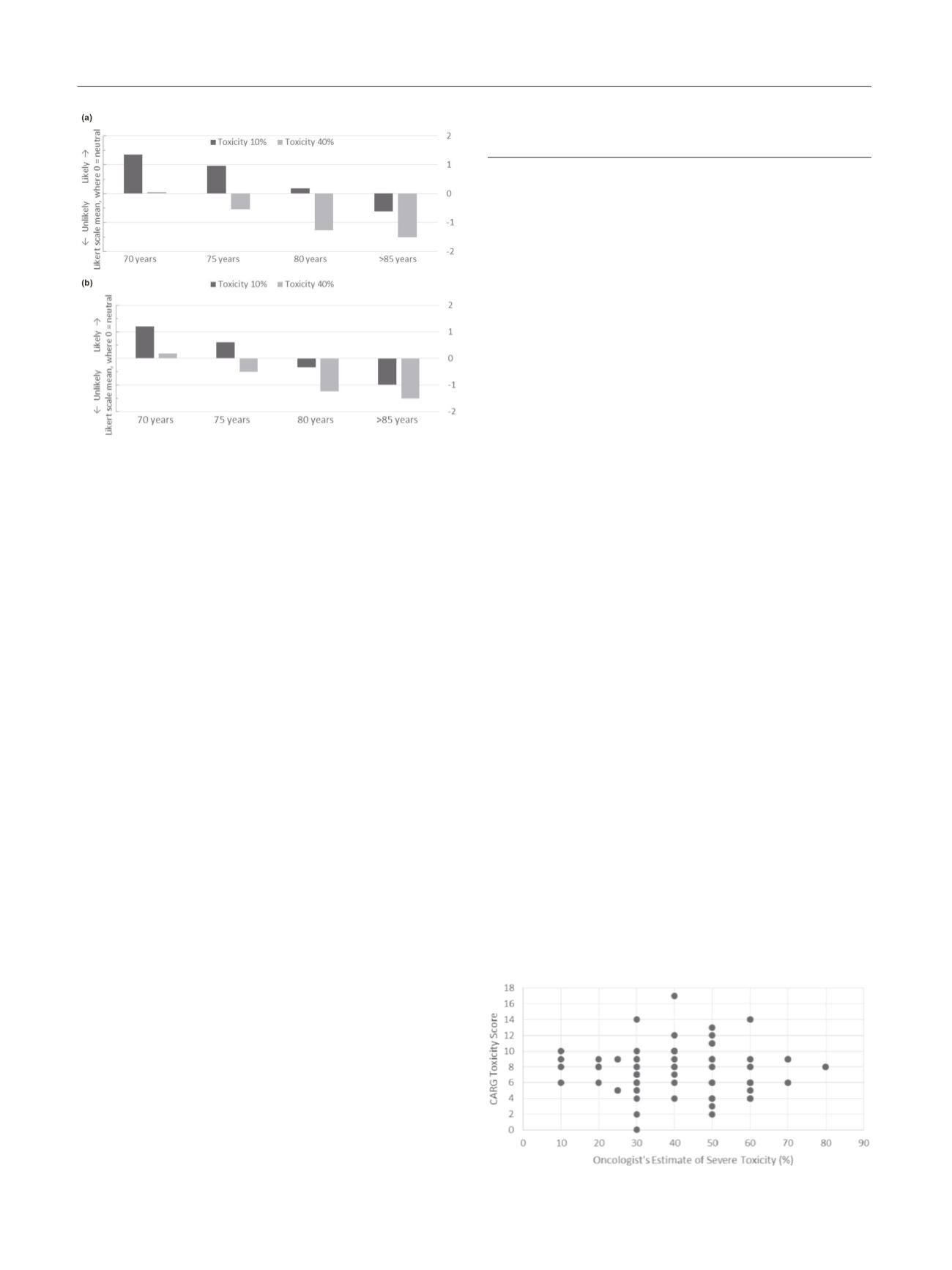 S110
A B S T R A C T S
Objectives:
We sought to determine factors influencing
oncologists' chemotherapy decisions for older adults,
methods of clinical assessment, and the effect of age and
toxicity on recommendations for chemotherapy.
Methods:
Consultant and trainee medical oncology
members of the Medical Oncology Group of Australia (MOGA)
were invited to complete an online survey in February to May
2016.
Results:
69 (74%) consultants and 24 (26%) trainees
completed the survey. 51 (55%) respondents were female,
and most (72, 77%) worked mainly in public practice where
patients aged

65yrs made up more than half of the practice
(54, 60%). Oncologists most frequently defined an "older
patient with cancer" as

75yrs (45, 49%). The highest ranked 3
factors influencing decisions about (i) palliative chemotherapy
were performance status, patient preference, and quality-of-
life, and (ii) adjuvant chemotherapy were survival benefit with
treatment, performance status, and life expectancy in the
absence of cancer. Almost half of oncologists (37, 45%) agreed
with an age limit for adjuvant chemotherapy, most (22, 56%)
nominating

85yrs; fewer (18, 22%) agreed with an age limit
for palliative chemotherapy. Oncologists assess older patients
by history and examination (100%), performance status (99%),
social supports (98%), functional status (96%), medications
(93%), cognition (88%), psychological state (70%), and nutrition
(64%). Only 23 (25%) routinely use formal measures to assess
at least one of these domains, and a minority routinely use
geriatric screening tools (14%) or a geriatric assessment
(5%). Oncologists were less likely to prescribe palliative and
adjuvant chemotherapy as age and rates of severe toxicity
increased (Figure 1).
Conclusion:
Factors influencing oncologists' decisions
about chemotherapy for older adults differed according to
treatment intent. Oncologists assess most geriatric domains,
but rarely formally. Oncologists were less likely to prescribe
chemotherapy as age and toxicity increased.
Disclosure of interest:
None declared
Keywords:
Chemotherapy, decision-making, elderly,
prescribing
P125
ESTIMATING THE RISK OF SEVERE CHEMOTHERAPY
TOXICITY IN ADULTS

65 YEARS: COMPARING THE CARG
SCORE WITH ONCOLOGISTS' ESTIMATES OF TOXICITY
E. Moth
1
, B. E. Kiely
1
, P. Beale
1
, M. R. Stockler
1
, P. Grimison
2
,
N. Stefanic
3
, A. Martin
2
, V. Naganathan
4
, P. Blinman
1,
*
1
Concord Cancer Centre, Concord Repatriation General Hospital,
Concord,
2
Medical Oncology, The Chris O'Brien Lifehouse,
3
University of Sydney, Sydney,
4
Centre for Education and Research
on Ageing, Concord Repatriation General Hospital, Concord,
Australia
Introduction:
The validated CARG Toxicity Score [1,2]
estimates the risk of severe chemotherapy toxicity in older
adults as low (score 0-5, 30% risk), intermediate (score 6-9,
52% risk) and high (score 10-23, 83% risk).
Objectives:
We sought to compare the risk of severe (G3-5)
chemotherapy toxicity estimated using the CARG Score with
that estimated by the oncologist.
Methods:
The CARG Toxicity Score (0-23) was calculated
for patients

65yrs prior to starting chemotherapy for a solid
organ cancer (any stage). Treating oncologists independently
estimated the probability of severe chemotherapy toxicity
(0-100%) for each patient. This abstract reports the first 70
patients of a larger prospective study comparing the utility of
the CARG Score with Oncologists' assessments in predicting
chemotherapy toxicity.
Results:
Between September 2015 and June 2016, 70
patients from 10 oncologists completed baseline assessments.
The median age was 72.5 years (range 65 to 86 years). Most
patients were male (47, 67%), having palliative chemotherapy
(47, 67%) for stage IV cancer (43, 62%). The most common
tumour types were colorectal (29, 42%) and lung (8, 12%). The
median CARG Score was 8 (range 0 to 17), with 14 patients
(20%) classified as low-risk, 40 (58%) as intermediate-risk,
and 15 (22%) at high-risk of severe toxicity using the CARG
Score. The median estimate for severe toxicity by oncologists
was 40% (range 10-80%) with 30 patients (43%) having a risk
estimate of

30% and no patients having a risk estimate of

80%. The median estimate by oncologists did not differ by
CARG Score risk group (Table 1). Estimated risk of severe
Fig. 1 (abstract P125) – CARG toxicity score by oncologist's
estimate of severe toxicity.
Fig. 1 (abstract P124) – (a) Likelihood of prescribing palliative
chemotherapy according to age and toxicity. (b) Likelihood
of prescribing adjuvant chemotherapy according to age and
toxicity.