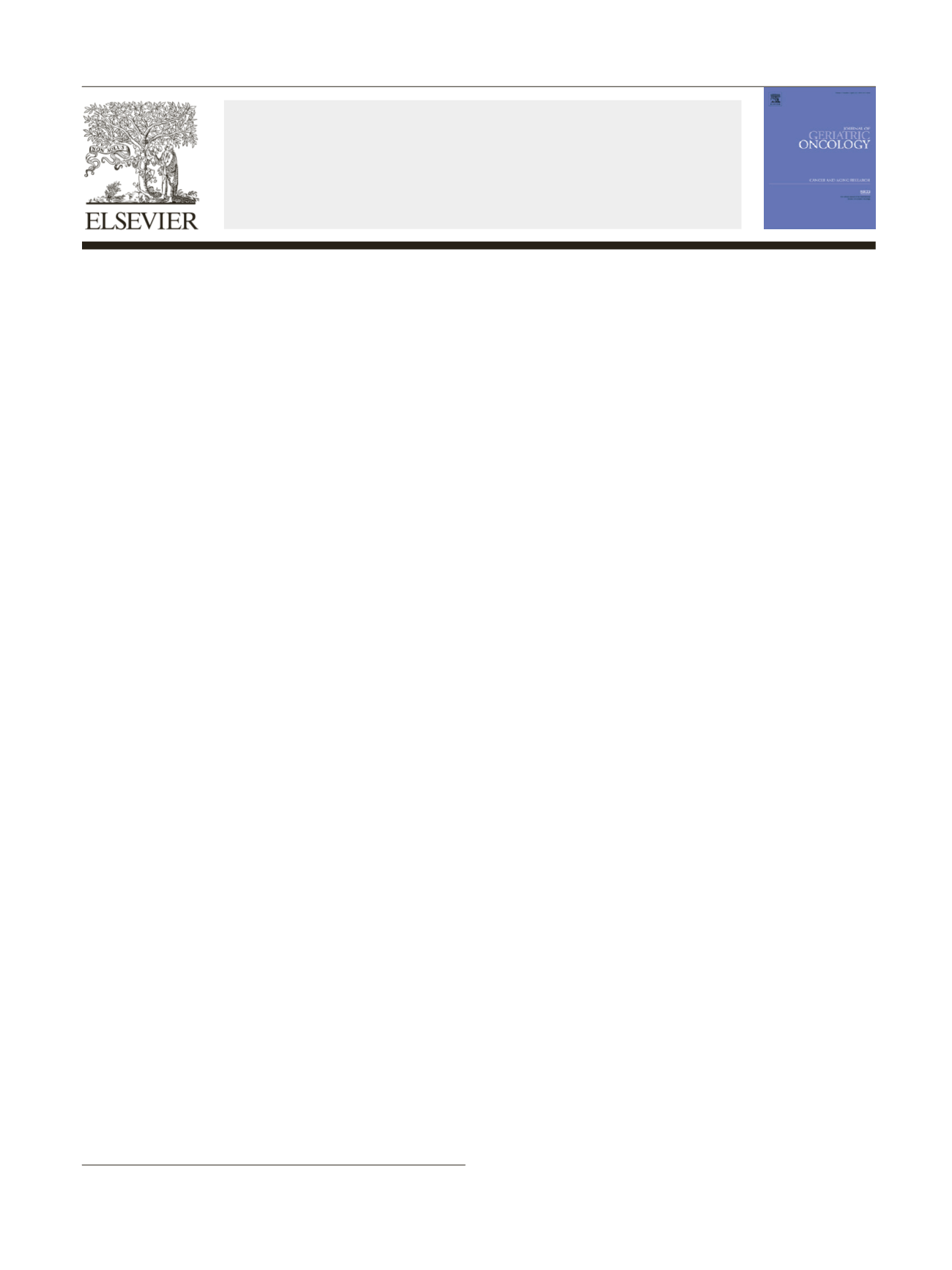 P001
RETROSPECTIVE STUDY EVALUATING THE EFFICACY AND
SAFETY OF FULVESTRANT AS FIRST OR SECOND LINE
TREATMENT OF METASTATIC BREAST CANCER PATIENTS
OVER 70 YEARS OF AGE
A. I. Jagiello-Gruszfeld
1,
*, I. Lemanska
1
, E. Szombara
1
,
E. Brewczynska
1
, A. Gorniak
1
, A. Majstrak-Hulewska
1
,
Z. Nowecki
1
1
Breast Cancer and Reconstructive Surgery Dept, Memorial Cancer
Center and Institute, Warsaw, Poland
Introduction:
Retrospective study evaluating the efficacy
and safety of fulvestrant as first or second line treatment of
metastatic breast cancer patients over 70 years of age.
Objectives:
We therefore performed a retrospective study
to evaluate the efficacy and toxicity profiles of fulvestrant in
ER pos breast cancer patients

70 years old, treated in first or
second line of therapy.
Methods:
We evaluated 68 consecutive, ER pos, breast
cancer patients over 70 years of age, who are treated at
our Clinic from 01 Mar. 2014 to 01 Jan. 2016. Treatment
was continued to progression or unaccepted toxicity. The
effectiveness of treatment with fulwestrant was assessed
as achieving CBR (CR + PR + SD

24 weeks). All patients were
evaluated for toxicity.
Results:
36 pts received fulvestrant as 1-st line treatment
(53%), and 32 as second line (47%) The majority of patients had
only a bone or bones and soft tissue metastases (62%). The
mean of age was 76.2 (range: 70–93). The majority of pts (70%)
previously received tamoxifen as adjuvant setting. 3 pts (5%)
received AI, and 17 (25%) tamoxifen and AI during adjuvant
therapy. Nausea grade 1, was observed in 2 pts (3%), In 12 pts
(18%) hot flushes in grade 2 was noted. Injection site reaction
grade 2 was reported in 1 pts (1.5%). CBR was reported in 58
patients (85%), 32 pts treated as first line and 26 as second line
of hormonal treatment.
Conclusion:
The results of our study suggest that fulvestrant
is an effective and safe as the hormonal treatment in the elderly.
Disclosure of interest:
None declared
Keywords:
Breast cancer, fulvestrant, hormonal treatment
P002
PRACTICE MANAGEMENT FOR ELDERLY PATIENTS WITH
BREAST CANCER FROM IMPLICATIONS OF A SURVEY BY
THE JAPAN CLINICAL ONCOLOGY GROUP
A. Shimomura
1,
*, M. Sawaki
2
, K. Tamura
1
, T. Mizutani
3
, Y. Taki
2
,
F. Nagashima
4
, H. Iwata
2
1
Breast and Medical Oncology, National Cancer Center Hospital,
Tokyo,
2
Breast Oncology, Aichi Cancer Center Hospital, Nagoya,
3
JJCOG Data Center/Operations Office, Center for Research
Administration and Support, National Cancer Center,
4
Medical
Oncology, Kyorin University School of Medicine, Tokyo, Japan
Introduction:
In practical setting there is little information
about the patterns of care for elderly breast cancer patients,
and a standardized strategy has not been established.
Objectives:
To address the patterns of care for elderly
breast cancer patients by questionnaire survey.
Methods:
We collected questionnaires to investigate
practice elderly breast cancer patients among 38 institutions
in Japan on May 2015.The questionnaire was comprised of five
parts: (1) definition of "elderly" for each treatment (surgery,
radiation therapy and chemotherapy), (2) clinical standard
anti-HER2 therapy in each age, (3) recommended dose of
docetaxel in each age, (4) considerations about conducting
future clinical trials and (5) other information about geriatric
oncology concerning breast cancer.
Results:
All answers were obtained within May 2015.
The proportion the questionnaire response was 86.8%.
Eighty years old was the most frequent upper limited age to
perform surgery and radiation therapy, on the contrary, as for
chemotherapy many physicians think it is difficult for over
70-75 years old as an adjuvant therapy. For HER2 positive
metastatic breast cancer, 82% of physicians recommended
combination therapy of DTX, trastuzumab and pertuzumab
(HPD) for 65 to 70 years old as standard care, although
54% of physicians do not recommended HPD for 70 to
75 years old as a first-line standard preference. Majority of
physicians recommended the doses of 75 mg/m
2
DTX for both
65-70 years old (63%) and 70-75 years old (52%), but did not
for over 75 years old. Many physicians (73%) recommended
60 mg/m
2
DTX for over 75 years old as first attempt. Ninety-
seven percent of physicians agree if that comprehensive
J O U R N A L O F G E R I A T R I C O N C O L O G Y 7 / 6 S 1 ( 2 0 1 6 ) S 3 7 – S 1 2 3
Av a i l a b l e o n l i n e a t
www. s c i e n c e d i r e c t . c om
ScienceDirect
1879-4068/Published by Elsevier Ltd.
SIOG 2016 – Abstract Submission – Poster Presentations