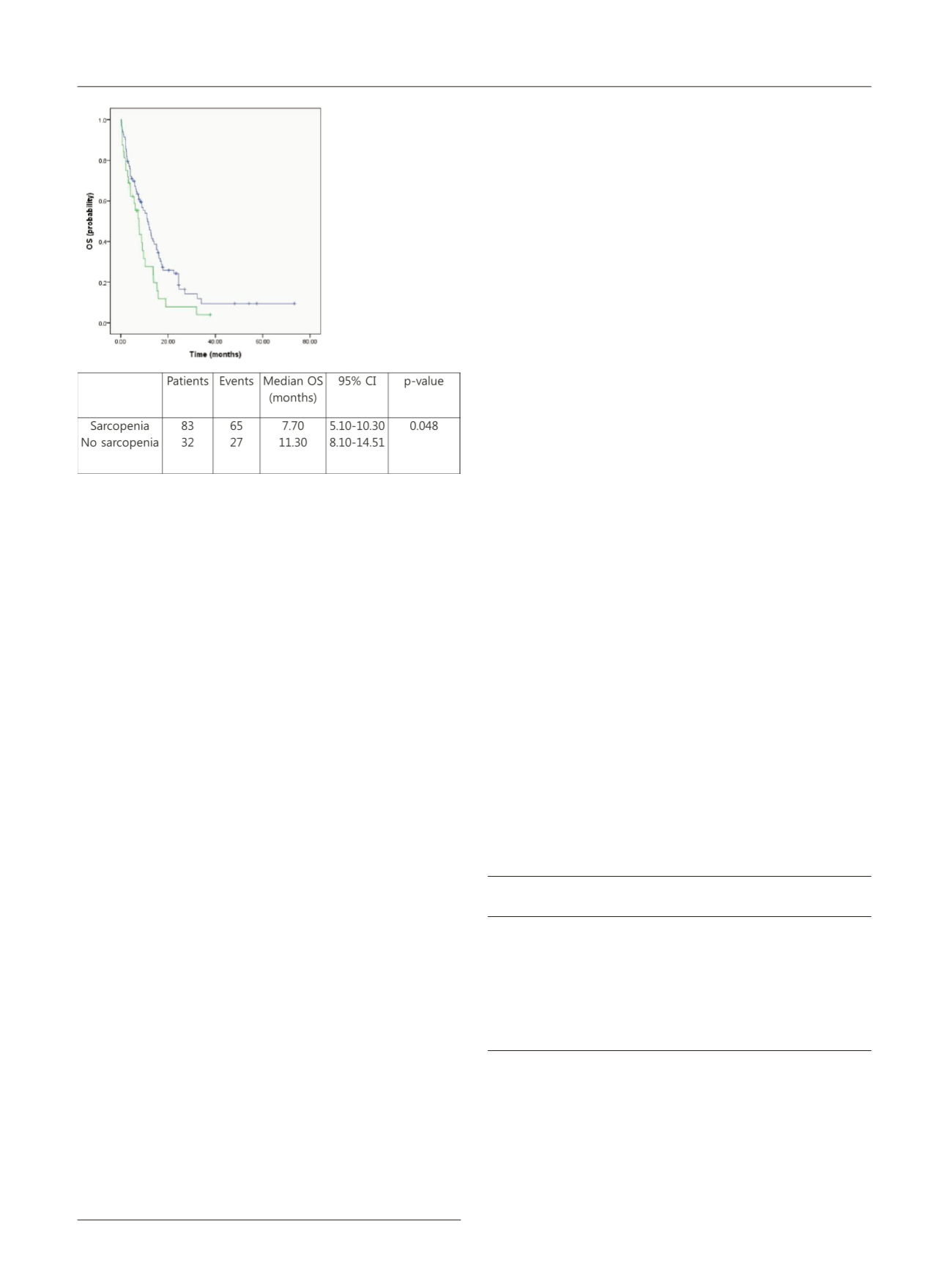 S66
A B S T R A C T S
cross-sectional area (cm
2
) and averaged for each patient.
Muscle area was normalized for height in meters squared (m
2
)
and reported as lumbar SMI (cm
2
/m
2
). Sarcopenia was defined
as lower than first quantile of lumbar SMI.
Results:
Between Oct. 2013 and Feb. 2015, 115 patients
were identified. Median age was 75 (range 70-91), the median
BMI was 22.8 (range 15.8-29.9), and the SMI in median value
was 43.3 (range 27.9-67.5). The most common site of cancers
was hepato-biliary cancer (n=20, 13.8%). BMI over 25 showed
longer survival, the median overall survival (OS) was 15.6
months (95% CI 1.67-29.5, p<0.001). The patients in sarcopenia
group showed significant shorter survival than group without
sarcopenia (7.7 months vs 11.3 months, p=0.048). In the
univariate analysis, BMI, ECOG PS, chemotherapy, Neutophil
to lymphocyte (N/L) ratio, c-reactive protein were associated
with survival. By multivariate analysis, the significant factors
associated with survival were BMI, SMI and N/L ratio.
Conclusion:
The patients in lower BMI and sarcopenia
showed declined overall survival in Korean eldery cancer
population. The systemic inflammatory responses are clearly
implicated poor prognostic outcome in this study. Further
prospective study is required to validate the use of BMI, SMI
and inflammatory blood markers as prognostic indicators in
elderly cancer patients with newly diagnosed with malignant
diseases.
References
:
[1] Jee SH, Sull JW, Park J, et al. Body-mass index and mortality
in Korean men and women. N Engl J Med 2006;355:779-787.
[2] Flegal KM, Graubard BI, Williamson DF, Gail MH. Excess
deaths associated with underweight, overweight, and
obesity. JAMA 2005;293:1861-7.
[3] Prado CM, Lieffers JR, McCargar LJ, et al: Prevalence and
clinical implications of sarcopenic obesity in patients with
solid tumours of the respiratory and gastrointestinal tracts:
A population based study. Lancet Oncol 2008;9:629-635.
Disclosure of interest:
None declared
Keywords:
BMI, eldery, sarcopenia, SMI
P053
THE BEHAVIORAL AND PSYCHOLOGICAL OUTCOMES
OF CANCER SURVIVORS: RESULTS FROM THE IRISH
LONGITUDINAL STUDY ON AGEING
E. Ryan
1
, A. O'Donovan
1,
*, R. A. Kenny
2
1
Trinity College Dublin,
2
The Irish Longitudional Study of Aging,
Dublin, Ireland
Introduction:
With half of cancer patients reaching 10 year
survival and survial rate doubling over the last 40 years [1]
survivorship care is set to be the next challenge for public
health care systems. Cancer survivors have a higher burden
of sequential illness than their non-cancer equivalent [2]
including increased rates of second malignancies, osteo-
porosis, cardiovascular disease and diabetes [3]. Positive
health behaviours in the older population can reduce the risk
of comorbidities and second malignancies, thus providing a
means of intervention in the management of survivorship
health.
Objectives:
This study aims to assess the current levels of
smoking, physical activity and alcohol intake in older cancer
survivors in Ireland and investigate the impact of these health
behaviours on quality of life (QoL) and depression.
Methods:
Results from The Irish Longitudinal Study on
Ageing Wave One cohort were analysed. Smoking status,
alcohol intake, physical activity, QoL and depression scores
were recorded. Comparison was made between those diag-
nosed with cancer and non-cancer participants using multiple
linear regression and multinomial regression analysis.
Results:
8,504 participants were surveyed, 522 were cancer
survivors. Smoking cessation was not significantly increased
in cancer survivors. (p=0.657) There was no difference in
alcohol scores between groups. (p=0.344) A diagnosis of
cancer was a negative predictor for physical activity (p=0.001).
Depression scores tended to be higher (p=0.051) andQoL scores
were lower (p=0.010) in cancer survivors. Smoking tended to
increase depression (p=0.059) but didn't significantly impact
QoL (p=0.195).
Table 1 (abstract P053) – Average outcome scores and significance of
difference between cancer survivors and general public
Cancer
No Cancer
P *
Unstandardised B (SE)
Average MET
2271.37
2980.29
**0.001
-476.237
minute
(147.768)
Average Daily
2.3765
2.5381
0.334
0.129 (0.133)
Alcohol Intake
Quality of life
43.45
44.37
0.010
-1.043 (-1.043)
Depression
6.42
5.83
0.051
0.628 (0.322)
Smoker: Never
40.20%
44.10%
Past
42.00%
37.50%
Current
17.80%
18.40%
*=Adjusting for Age, gender, education and marital status
**= Adjusting for Age, gender, education, marital status and Arthritis
Conclusion:
Older cancer survivors in Ireland show
no improvement in behaviour compared to the general
population and receive poorer QoL scores. Poor health
behaviours negatively impacted depression scores. Increased
promotion in positive health behaviour is required to increase
the quality of life in aging cancer survivors.
Fig. 2 (abstract P052) – Overall survival in SMI.