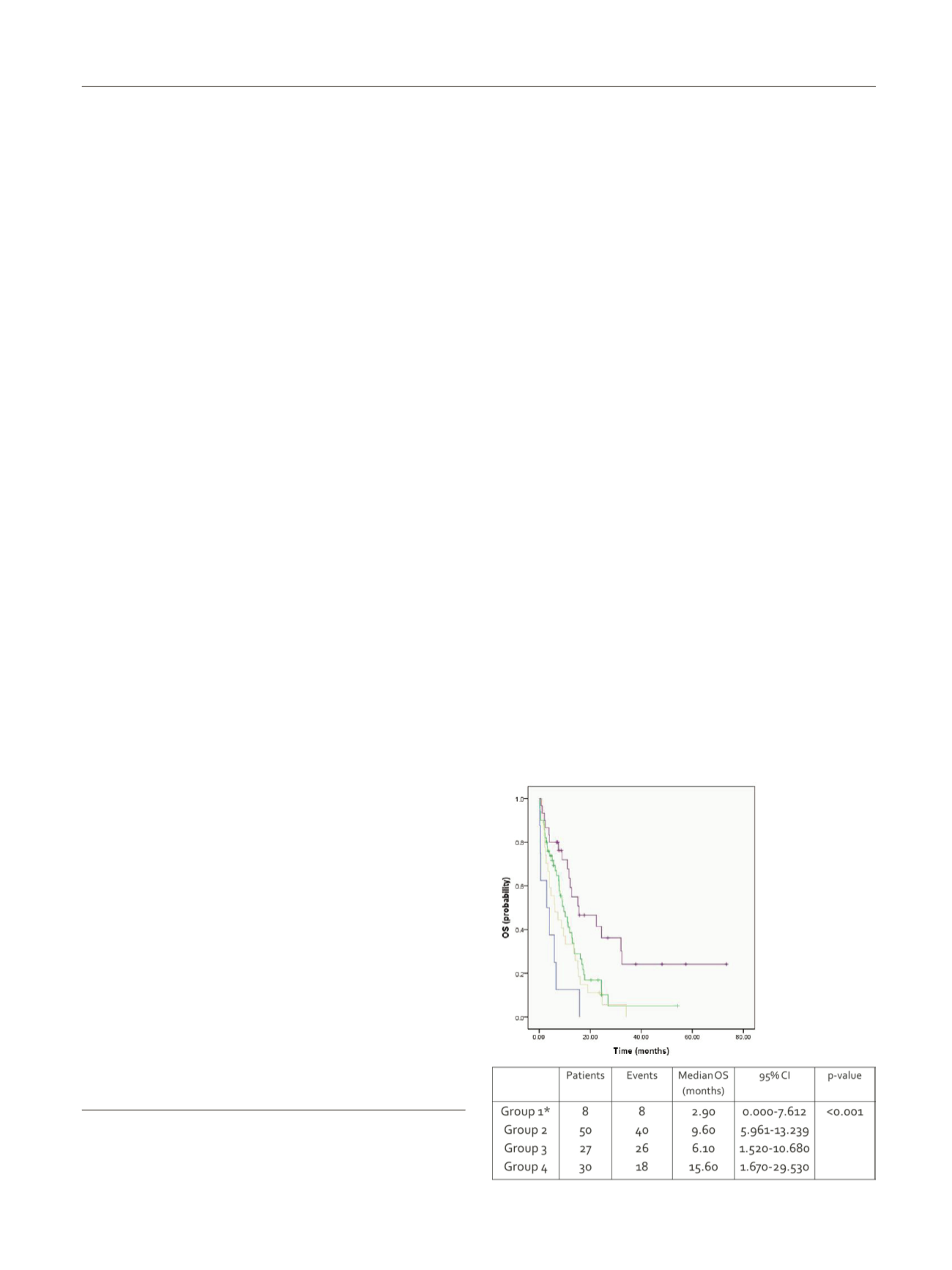 A B S T R A C T S
S65
P051
SARCOPENIA IS ASSOCIATED WITH AN UNPLANNED
READMISSION AND WORSE SURVIVAL FOLLOWING
ESOPHAGECTOMY
D. Makiura
1,2,
*, R. Ono
1
, J. Inoue
2
, Y. Sakai
3
, Y. Miura
1
1
Kobe University Graduate School of Health Sciences,
2
Division of
Rehabilitation, Kobe University Hospital,
3
Kobe University Graduate
School of Medicine, Division of Rehabilitation Medicine, Kobe City,
Japan
Introduction:
Geriatric syndromes suchas sarcopeniamight
adversely affect postoperative recovery. Although sarcopenia
is a risk factor for postoperative pulmonary complications
following esophagectomy, the long-term effects of sarcopenia
remain unclear.
Objectives:
This study investigated the relationship
between sarcopenia and 90-day unplanned readmission and
overall survival following esophagectomy.
Methods:
This study was a prospective cohort study. One
hundred patients with esophageal cancer who underwent
esophagectomy at a single university hospital were enrolled
in this study. Clinical data, 90-day unplanned readmission
after discharge, and overall survival were obtained by
reviewing medical records. Unplanned readmission was
defined as any urgent or emergent hospitalization, excluding
elective for adjuvant therapy. We assessed sarcopenia before
esophagectomy. Sarcopenia was defined as low muscle mass
plus low muscle strength and/or low physical performance
according to theAsianconsensusdefinition.Logistic regression
analysis was performed to identify factors that contributed to
90-day unplanned readmission. Age, sex, pathological tumor
stage, oral nutrition intake, postoperative complications, and
sarcopenia were included in the multivariable models. Overall
survival was estimated with the Kaplan-Meier method, and
survival estimates were compared using the log-rank test.
Results:
The mean age of the participants was 67.0 ±
7.6 years, and 33 patients (33.0%) were diagnosed with
sarcopenia. The 90-day unplanned readmission rate was
23.7%. Multivariable logistic regression analysis found that the
90-day unplanned readmission rate was significantly higher
in sarcopenia group than in non-sarcopenia group (40.0%
versus 16.4%; odds ratio, 3.03; 95% confidence interval, 1.04-
9.11;
P
=0.04). Log-rank test found that patients in sarcopenia
group had worse overall survival than in non-sarcopenia
group (
P
=0.03).
Conclusion:
Sarcopenia may be a risk factor for 90-
day unplanned readmission and worse survival following
esophagectomy. These findings could help to identify patients
at higher risk of long-term postoperative morbidity.
Disclosure of interest:
None declared
Keywords:
Esophageal cancer, esophagectomy, Sarcopenia,
survival, unplanned readmission
P052
CLINICAL IMPLICATION OF BODY MASS INDEX, SKELETAL
MASS INDEX AND RELATED BLOOD MARKERS IN THE
ELDERLY PATIENTS WITH SOLID TUMORS
D. S. Sun
1,
*, S. L. Lee
2
, Y. M. Ku
2
, H. S. Won
2
, J. Y. Choi
2
, Y. H. Ko
3
1
Medical Oncology, Uijeongbu St. Mary's Hospital, Uijeongbu City,
2
Uijongbu St. Mary's Hospital, Uijongbu city,
3
Uijongbu St. Mary's
Hospital, Uijongbu cityl, Republic Of Korea
Introduction:
The optimal body-mass index (BMI) and the
effects of being either underweight or overweight on the risk
of death are widely accepted and the elderly cancer patient is
one of important associated populations. Being underweight
in elderly associated with mortality may partly explained by
the decrease in both body weight and skeletal muscle mass
cause disability against acute or chronic diseases, and the
immune response is often decreased in such patients. Skeletal
muscle index (SMI) is one of the survival predictive markers
in the patients with malignancy. BMI would be statistically
correlated with SMI and clinical outcome in elderly cancer
patients.
Objectives:
We aimed to assess the relations of clinical
outcomes with BMI and SMI in Korean elderly cancer patients,
and evaluate the common blood markers could be predictive
values for prognosis in this population.
Methods:
Clinical databefore thefirst cycleof chemotherapy
were obtained in the patients over age 70 with inoperable
or recurrent or metastatic solid tumors in the Uijeongbu St.
Mary's hospital, the Catholic university of Korea. Including
BMI, SMI, gender, age, performance status (PS), TNM stage,
and blood values were in statistical analysis, retrospectively.
CT scanner for initial cancer staging and routine diagnostic
purposes were used to quantify skeletal muscle area. Two
adjacent axial images within the same series, at the third
lumbar vertebra, were selected for analysis of total muscle
Fig. 1 (abstract P052) – Overall survival in BMI.