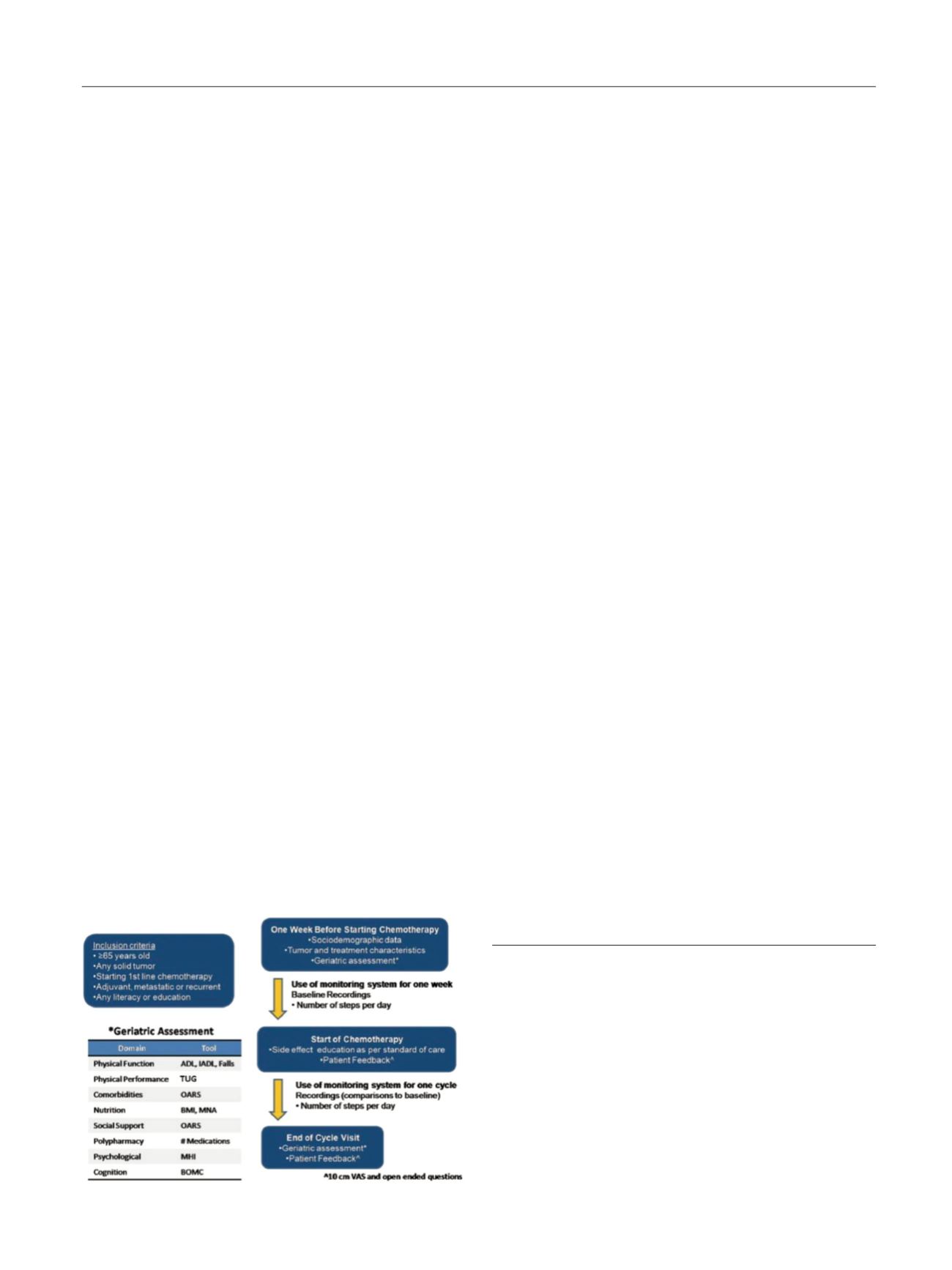 A B S T R A C T S
S95
P100
A PILOT STUDY OF AN ACCELERATOR EQUIPPED
SMARTPHONE TO MONITOR OLDER ADULTS WITH CANCER
RECEIVING CHEMOTHERAPY IN MEXICO
E. Soto-Perez-De-Celis
1,
*, M. P. Rojo-Castillo
1
,
Y. Chavarri-Guerra
2
, A. P. Navarrete-Reyes
1
, J. R. Waisman
3
,
J. A. Avila-Funes
1
, Á. Aguayo
2
, A. Hurria
4
1
Department of Geriatrics,
2
Department of Hemato-Oncology,
Instituto Nacional de Ciencias Médicas y Nutrición Salvador
Zubirán, Mexico City, Mexico,
3
Department of Medical Oncology &
Therapeutics Research,
4
Cancer and Aging Research Program, City
of Hope, Duarte, USA
Introduction:
Older adults with cancer in developing
countries face challenges accessing healthcare due to a lack
of personnel and infrastructure. There are no standard triage
mechanisms to report toxicities, and adverse events can go
unnoticed for considerable amounts of time. We hypothesize
that functional decline (defined as a decrease in the number of
daily steps) may be a novel method for the timely detection of
toxicity in older adults receiving chemotherapy in a resource-
constrained country.
Objectives:
1) To determine if it is feasible and acceptable
to monitor the number of daily steps of older adults with
cancer receiving chemotherapy using a smartphone; 2) To
explore if a decline in the number of daily steps is associated
with toxicity.
Methods:
Patientsaged

65startingafirstlinechemotherapy
regimen for any solid tumor underwent a geriatric assessment
and were given an accelerometer-equipped smartphone with
a cloud-based pedometer application (Google Fit). Baseline
daily steps were recorded pre-chemotherapy and then
monitored daily for the first cycle. If a

15% decline from
baseline was identified, the patient was called by a physician
and the presence of toxicity was assessed. Interventions, such
as prescribing over-the-counter medications or advice to get
medical attention were instituted accordingly. With a sample
size of 40 patients, the intervention would be considered
feasible if

75% of subjects recorded steps for at least 75% of
planned days, and acceptable if

70% of subjects considered
the device easy to use utilizing a Visual Analog Scale. The
study received research ethics approval.
Results:
Forty patients (median age 73 [range 65-89]; 57%
[N=23] female) were accrued between September 2015 and
April 2016. Seventy percent (N=28) had stage III or IV disease
with 45% (N=18) GI, 23% (N=9) breast, and 32% (N=13) other
malignancies. The median distance from the patients' home
to our hospital was 23 km (range 1.9-1232); 63% (N=25) lived
alone or with another older adult; and 60% (N=24) had less
than a high-school education. Fifty-seven percent (N=23) were
dependent in one or more IADLs; mean Timed Up and Go was
12 seconds (SD 3); 35% (N=14) reported falls in the previous
6 months; and 37% (N=15) and 32% (N=13) had hearing and
visual impairment respectively. Mean pre-treatment daily
steps were 3111 (range 208-7720, SD 1731), and median follow-
up was 21 days (range 2-28). Although only 23% (N=9) had
previously used a smartphone, most (93%) patients used the
device appropriately and recorded steps, and 85% found it easy
to use. All patients had at least one day with a

15% decline in
the number of steps (median 10 days; range 1-18). The median
number of calls per patient was 11 (range 1-25), which led
to the identification of 159 grade

2 toxicities in 31 patients
(73% [N=116] grade 2 and 27% [N=43] grade 3), most commonly
fatigue (26%) and diarrhea (15%). In an exploratory analysis,
we found that 46% of toxicities (n=57) led to interventions. Of
the 28% (N=11) of patients needing urgent medical attention
or hospitalization, most (N=10) were detected by a decrease in
the number of steps.
Conclusion:
Using smartphones to monitor the number of
daily steps of older adults with cancer receiving chemotherapy
in a resource-constrained setting is feasible and acceptable.
A decrease in the number of daily steps was common and
helped to identify chemotherapy toxicity. Further studies
assessing this novel monitoring strategy in older adults with
cancer are needed.
Disclosure of interest:
E. Soto-Perez-De-Celis: None declared,
M. P. Rojo-Castillo: None declared, Y. Chavarri-Guerra Grant/
Research Support from: Roche, Pfizer, A. P. Navarrete-Reyes:
None declared, J. Waisman: None declared, J. A. Avila-Funes:
None declared, Á. Aguayo: None declared, A. Hurria Grant/
Research Support from: Celgene, Novartis, GSK, Consultant
for: Seattle Genetics, OptumHealth Care Solutions, Inc.,
GTx, Inc., Boehringer Ingelheim Pharmaceuticals, Carevive
(formerly On Q Health), Sanofi
Keywords:
Developing countries, mobile applications,
monitoring, ambulatory, remote sensing technology, toxicity
P101
IMPLEMENTATION OF A GERIATRIC ONCOLOGY UNIT TO
HELP OLDER CANCER PATIENTS WITH DECISION-MAKING
E. Bustamante Maldonado
1,
*, M. Domènech Santasusana
2
,
A. Baraldés Farré
1
1
Internal Medicine,
2
Oncology, Althaia Manresa-Barcelona,
Manresa, Spain
Introduction:
The increase in life expectancy has resulted
in an increase of certain diseases, and improvements
in treatments have also led to the prevalence of some
Fig. 1 (abstract P100) – Study design.