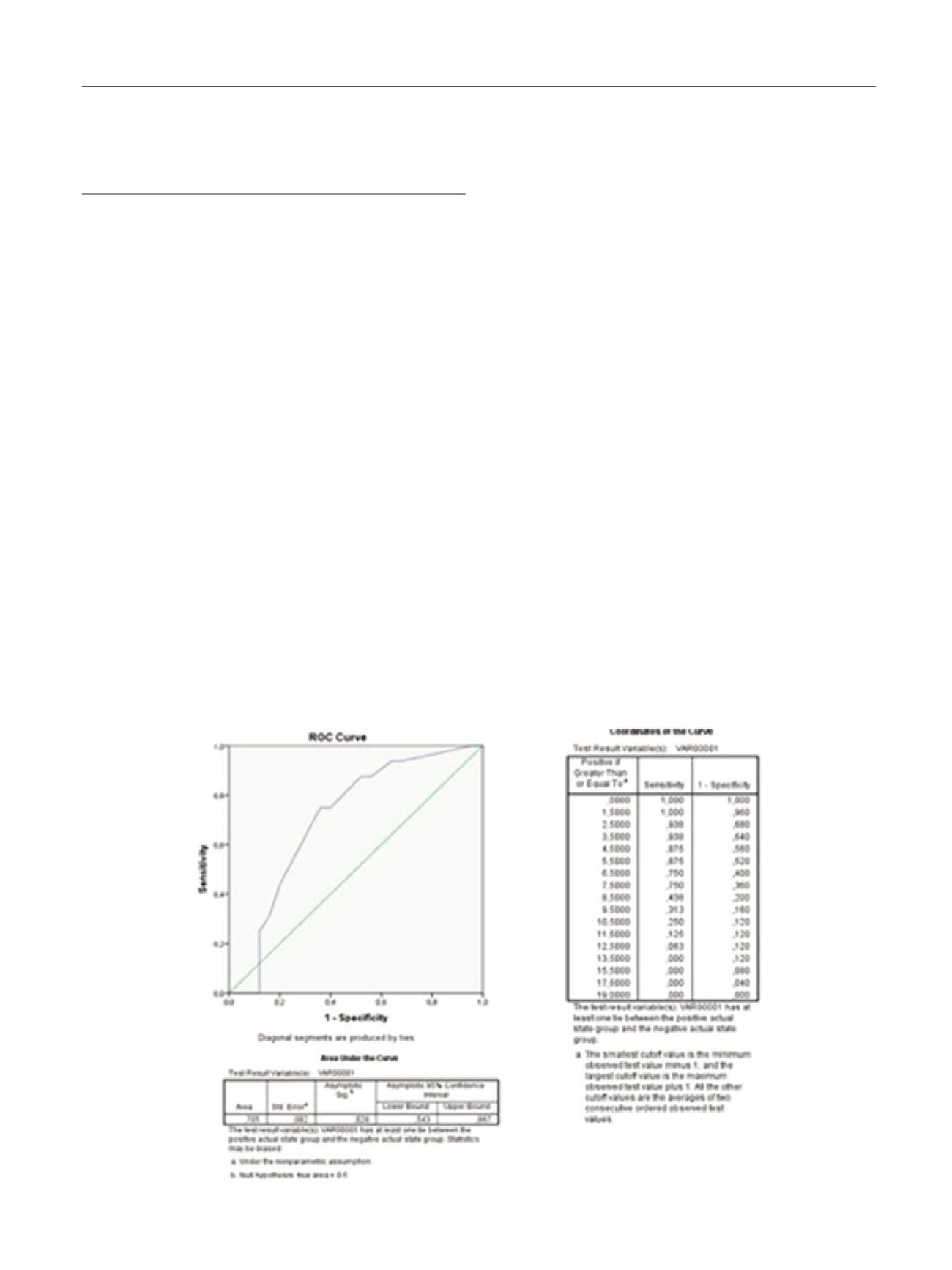 A B S T R A C T S
S59
declared, J. Choi: None declared, A. Hurria Consultant for:
GTX, Boehringer Ingelheim Pharmaceuticals, Carevive, Sanofi
Keywords:
Breast cancer, chemotherpy, biomarkers of aging
P040
DIFFUSE LARGE B CELL LYMPHOMA: AN OVERVIEW OF
THE DISEASE WITH SPECIAL FOCUS ON CIRS SCALE AND
EMERGENCY VISITS IN THE ELDERLY POPULATION
C. Plaza Meneses
1
, T. Arquero Portero
1
, B. Zheng
1
,
M. Yuste Platero
1
, T. Villaescusa de la Rosa
1
,
J. L. Lopez Lorenzo
1
, M. A. Pérez Sáenz
1
, E. Prieto Pareja
1
,
F. Lobo Samper
1
, P. Llamas Sillero
1
, R. Cordóba Mascuñano
1,
*
1
Hematology, Hospital Universitario Fundación Jiménez Díaz,
Madrid, Spain
Introduction:
Lymphomas are a very prevalent disease in the
elderly population.Many aggressive lymphomas are considered
nowadays to be a curable disease. All patients, even those older
than 60 years of age, are considered for optimal treatment with
a curative intent. Diffuse Large B Cell Lymphoma (DLBCL) is
the most common Non-Hodgkin Lymphoma (NHL), involving
around 4% of all malignancies diagnosed. It is considered an
aggressive lymphoma with 60% of curative rates after standard
treatment with R-CHOP regimen. Those patients that had
disease progression can be rescued with salvage treatment in
20-30% of cases. The elderly population is not considered for
full standard treatment in many centers. The use of geriatric
scales are starting to being used to stratify patients and offer
them a more individualized treatment regimen.
Objectives:
1: Validate CIRS score in DLBCL cohort. 2:
Impact of CIRS in treatment related complications (ER visits,
hospitalizations, length of stay). 3: Impact of CIRS score in OS
Methods:
We analyzed 41 patients homogeneously treated
with R-CHOP in a single center, with 60 years of age or older
at diagnosis between November 2008 and November 2015.
Patients were evaluated for comorbidities with Cumulative
Illness Rating Scale (CIRS), in order to try to detect the more
unfit population and evaluate the average of admissions,
length of stays and the impact on overall survival (OS). The
CIRS scale were adjusted by removing the hematological
question since all our patients were diagnosed with a
hematologic malignancy. The cutoff point for CIRS score was
selected using a ROC analysis.
Results:
In our series, 20 (48%) were males and 21 (52%) were
females. Median age at diagnosis was 73 years old (range 60-
90 years). With a median follow-up of 32 months (range 0-96),
the median PFS was 51 months and OS was 61 months. There
were 49 ER visits recorded. 10 patients (24%) did not require an
ER visit. Neutropenic fever was the most common cause of ER
visit, n=18 (36%). 25 (51%) of the patients were admitted in the
hospital, with an average of stay of 9.2 days (range 1-62). The
ROC analysis identified a scoring of 5.5 in CIRS score to identify
two different risk groups, with anAUC of 70.5% and a sensibility
of 87% and a specificity of 48% (p=0.02). The low risk group
(n=17), 7 (41%) patients were admitted with a mean of stay of
6.2 days of stay (range 1-16 days) the high risk group (n=24),
11 (45%) patients were admitted with a mean of stay of 10.6
days (range 1-62) with p=0.035. The CIRS scale was also used to
discriminate two OS groups, the low risk showed a median OS
of 77 months vs the high risk of 51 months of OS (p=0.05).
Conclusion:
The OS and the PFS in our sample is similar as
described in larger studies, with a great number of patients
Fig. 1 (abstract P040) – ROC curve and cut-off points for CIRS and overall survival.