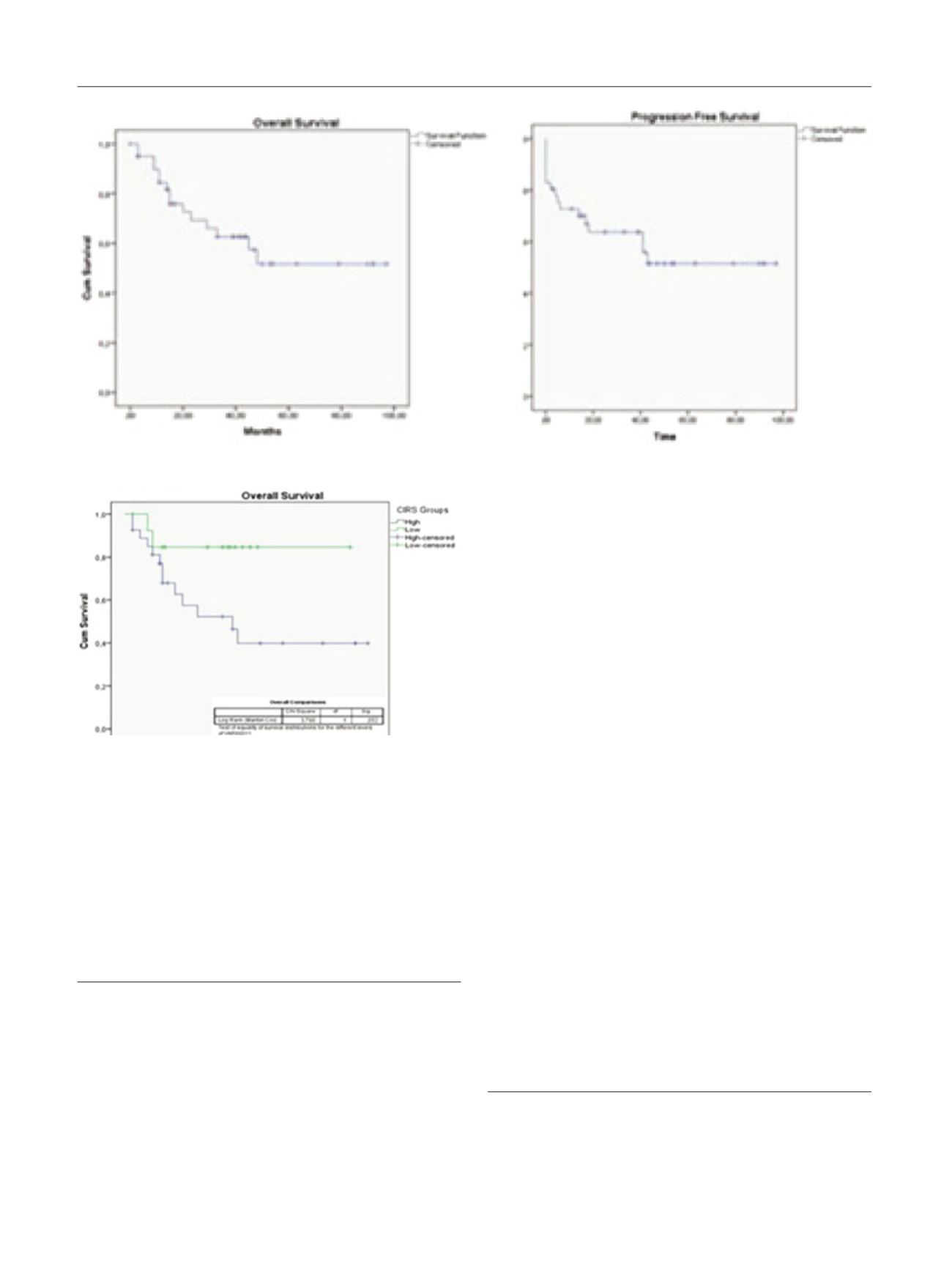 S60
A B S T R A C T S
reaching prolonged remissions. The days of admissions
adjusted to the CIRS scale give us an interesting tool in
order to help physicians to discriminate patients with DLBCL
that will have prolonged admissions when treated with the
standard of care.The CIRS scale also help separate two distinct
OS curves, giving physicians a new tool to help discriminate
worse prognostic patients, making them good candidates for
adapted therapies.
Disclosure of interest:
None declared
Keywords:
Geriatric assessment, lymphoma
P041
COMPREHENSIVE GERIATRIC ASSESSMENT MAY BE USEFUL
ITEM AS PREDICTIVE INDEX OF TREATMENT COMPLETION
FOR ELDERLY PATIENTS WITH LYMPHOMA
M. Shibata
1,
*
1
Internal medicine, Kawanishi, Japan
Introduction:
In the treatment for B-cell lymphoma, a
lot of reports tell us that standard CHOP-like regimen and
rituximab shows good survival. However, the chemotherapy is
difficult for elderly patients to complete, because it has severe
adverse effects. In this point of view, if we can find the index
for the assessment about tolerance in chemotherapy for
elderly patients with malignant lymphoma (ML), patients can
accomplish their treatment without severe adverse effects.
Objectives:
In this report, we investigated the total
conditions of elderly patientswithML throughComprehensive
geriatric Assessment (CGA). Moreover, we examined whether
our assessment is predictive or not for the patients who is
treated with chemotherapy.
Methods:
In this report, we examined 21 elderly patients
who are newly diagnosed as having ML from Apr 2012 to Dec
2014. We adopted CGA as a measurement of elderly patients.
The items in CGA are Barthel Index, geriatric depression scale
(GDS-5), Hasegawa dementia scale for revised, vitality index
(VI).
Results:
In our assessment, 15 patients accomplished the
treatment and in the others the treatment was discontinued
because of their frailty. Twelve of all patients had disease of
advanced stage (stage III or IV), and 6 patients of them have
accomplished their treatment. In patients with advanced
lymphoma, our CGA showed that the 6 patients who
accomplished the treatment have better GDS-5 than the
others (median 4 vs 3 p=0.0198). We did not find difference in
VI, BI or Hasegawa dementia scale, and other hematological
and non-hematological events among the patients.
Conclusion:
CGA may be a useful item as a predictive index
of treatment completion for elderly patients with ML.
Disclosure of interest:
None declared
Keywords:
Comprehensive geriatric assessment, lymphoma
Fig. 2 (abstract P040) – OS and PFS of all series.
Fig. 3 (abstract P040) – OS curve according to CIRS groups.