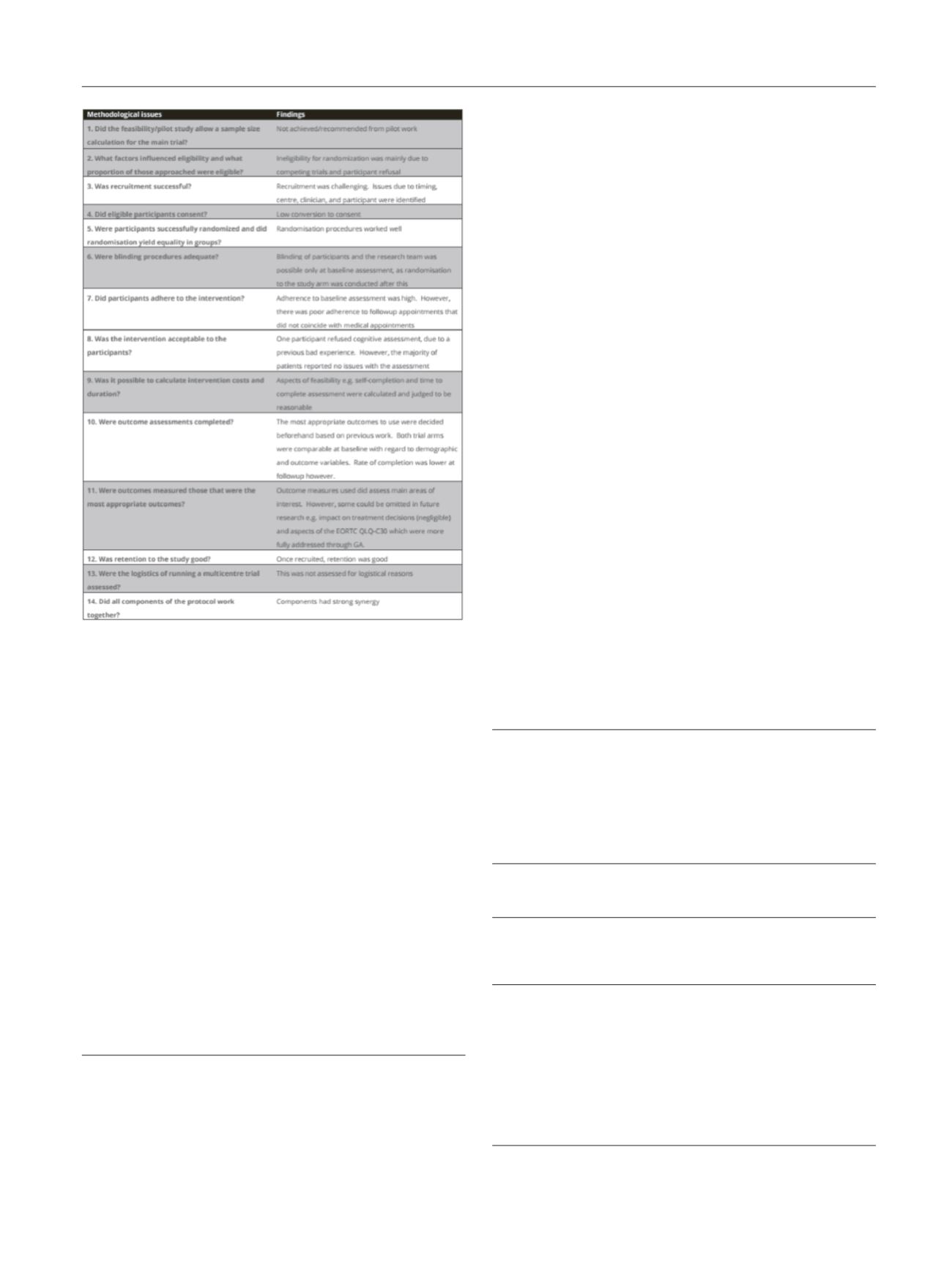 A B S T R A C T S
S73
References
:
[1] Craig P, Dieppe P,Macintyre S,Michie S, Nazareth I, Petticrew
M. Developing and evaluating complex interventions: the
new Medical Research Council guidance. BMJ (Clinical
research ed). 2008;337.
[2] O'Donovan A, Mohile SG, Leech M. Expert consensus panel
guidelines on geriatric assessment in oncology. Eur J
Cancer Care 24(4):574-89.
[3] Shanyinde M, Pickering RM, Weatherall M. Questions
asked and answered in pilot and feasibility randomized
controlled trials. BMC Medical Research Methodology.
2011;11(1):1-11.
[4] Bugge C, Williams B, Hagen S, Logan J, Glazener C,
Pringle S, et al. A process for Decision-making after Pilot
and feasibility Trials (ADePT): development following a
feasibility study of a complex intervention for pelvic organ
prolapse. Trials. 2013;14(1):1-13.
Disclosure of interest:
None declared
Keywords:
Clinical trials for elderly cancer patients, geriatric
assessment, pilot study, radiotherapy
P064
RADICAL RADIOTHERAPY IN PATIENTS AGED OVER 80:
A SINGLE UK CENTRE EXPERIENCE
A. Cree
1,
*, A. Lewis
2
, R. Cowan
1
1
Clinical Oncology, The Christie NHS Foundation trust,
2
Medical
Oncology, The Christie NHS Foundation, Manchester, United
Kingdom
Introduction:
The Christie NHS Foundation Trust is a
large cancer centre in the North West of England serving a
population of 3.2million.Around 450 patients a day are treated
in the radiotherapy department using modern techniques
including SABR. Over 10% of these patients are aged above 80.
At present there is no formal geriatric oncology service and
'The Christie Cancer Care in Later Life Group' has formed to
focus on this area. We are collecting baseline data to guide
development.
Objectives:
To profile patients over the age of 80 treated
with radical or adjuvant radiotherapy at our institution in one
month.
Methods:
82 patient treated between 1st to 31st January
2016 were identified using electronic notes. Data recorded
included demographics, performance status, radiotherapy
details, acute toxicity (CTCAE v4) and survival.
Results:
Radiotherapy was well tolerated with 81 (98%) of
patients completing the course of treatment.
The sites of adjuvant radiotherapy were breast 13 (62%),
skin 5 (24%), sarcoma 2 (10%) and head and neck 1 (5%). Radical
radiotherapy sites are summarised in the diagram. Two
patients received sequential radiotherapy for synchronous
lung and head and neck primaries.
Table 1 (abstract P064) – Patient demographics
Gender
Male
38 (46%)
Female
44 (54%)
Treatment intent
Adjuvant
21 (26%)
Radical
61 (74%)
Performance status
0-1
50(61%)
2-3
32 (39%)
Age (years)
80-85
37 (45%)
85-90
33 (40%)

90
5 (6%)
Table 2 (abstract P064) – Deaths within 100 days of completion of
radiotherapy
Time from
end of
Radiotherapy
treatment treatment
(days)
site
Related
Description
7
Lung
Possible
Pneumonia (no
reported acute
toxicity)
11
Lung/Head and Neck
Yes
Toxicity related
18
Head and Neck/Lung
Possible
Sudden cardiac
death (cardiac
dose?)
97
Pituitary adenoma
Unknown Unknown (no
acute toxicity)
100
Vulva
No
Progressive
disease
The mean number of fractions was 17 (range 1-30). In one
case (adjuvant breast) the fractionation was reduced from
Fig. 1 (abstract P063)