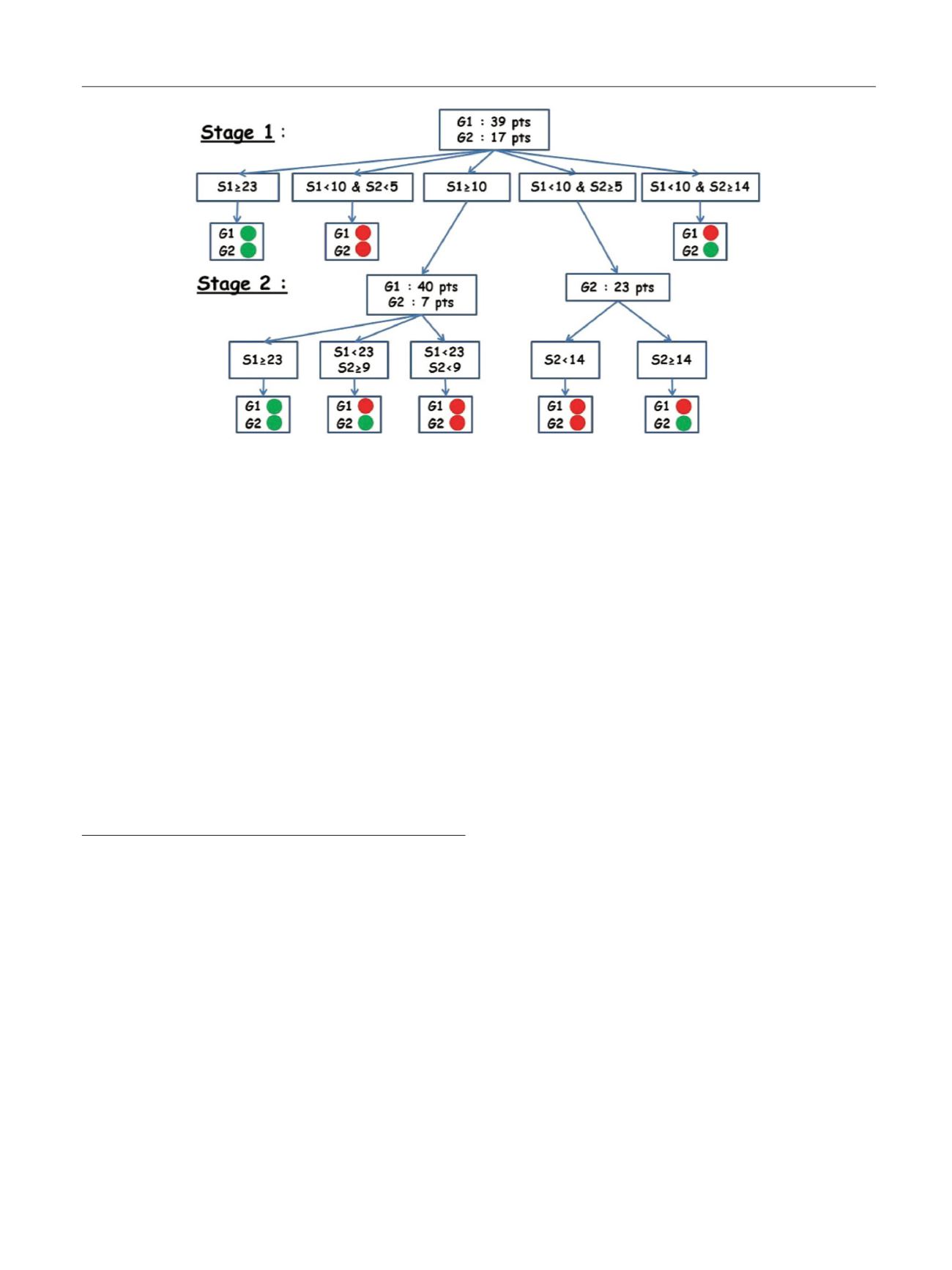 A B S T R A C T S
S77
Conclusion:
To improve the efficiency of clinical research
in geriatric oncology, it is essential to conduct elderly specific
phase II clinical trials using appropriate methodologies by
taking into account the heterogeneity of this population. The
use of these adaptive phase II designs permits to reduce the
sample size. Recruitment duration, that is a major cause of
early stopping in elderly specific clinical trials, can also be
shortened. The use of sequential adaptive designs allows
the possibility to select a subpopulation that could benefit
(or not) from the experimental treatment at the end of the
first or the second stage. From a scientific point of view, this
would permit to conclude the efficacy or the feasibility of the
experimental treatment in a subgroup of interest. From an
ethical point of view, this would limit the exposure time of
particular subgroup of patients to inadequate treatments.
Disclosure of interest:
None declared
Keywords:
Design, elderly, heterogeneity, Phase II clinical
trial
P070
HOME-BASED PREHABILITATION AND REHABILITATION TO
OPTIMIZE PHYSICAL FITNESS AND TREATMENT OUTCOMES
IN PATIENTS WITH NON-SMALL CELL LUNG CANCER : A
SYSTEMATIC REVIEW
E. J. Driessen
1,
*, M. E. Peeters
2
, B. C. Bongers
3
, H. A. Maas
4
,
G. P. Bootsma
5
, N. L. van Meeteren
6
, M. L. Janssen-Heijnen
1
1
Epidemiology, VieCuri Medical Centre, Venlo,
2
Physical Therapy,
Knooppunt Centre for Health, Baarlo,
3
Epidemiology, CAPHRI
School for Public Health and Primary Care, Maastricht University,
Maastricht,
4
Geriatric Medicine, Elisabeth-TweeSteden Hospital,
Tilburg,
5
Pulmonology, Zuyderland Medical Centre, Heerlen,
6
Topsector Life Sciences and Health, Health Holland, The Hague,
Netherlands
Introduction:
Patients with non-small cell lung cancer
(NSCLC) are often old, vulnerable and at risk for complications.
Standard curative treatments lead to adverse events in

50% of patients and frequently require hospitalization.
Prehabilitation (therapeutic exercise training before
treatment) and rehabilitation (training during and after
treatment) bare the potential to optimize physical fitness
through increasing the physiological reserve, leading to better
treatment tolerance and even survival. However, training may
be limited due to multimorbidity, physical limitations and
accessability to services. Personalized training in a home-
based setting might overcome these barriers and enhance
motivation and adherence, especially for vulnerable and older
patients. However, a systematic overview regarding feasibility
and effectiveness of home-based (p)rehabilitation for NSCLC
patients is currently lacking.
Objectives:
To determine the feasibility and effectiveness of
home-based (p)rehabilitation in NSCLC patients by evaluating
physical fitness, adherence and treatment tolerance in a
systematic review.
Methods:
The PRISMA and Cochrane guidelines were
followed. Studies were included from databases PubMed,
Medline, Embase and PEDro (January 2000-April 2016). Two
reviewers independently searched and selected studies based
on PICO (NSCLC, (p)rehabilitation, home-based, physical
fitness), full text and by reference tracking. Data regarding
study characteristics, outcomes, methodological quality
(Cochrane risk of bias tool) and therapeutic validity (CONTENT
scale) were independently assessed as well. Interobserver
agreement was assessed with Cohens' Kappa.
Results:
Eleven studies were included (437 NSCLC patients,
mean age 59-72 years). Nine of ten rehabilitation studies
(90%) and one prehabilitation study, consisting of aerobic and
strength exercises, described (significantly) improved physical
fitness (28-65 meter improved 6-minute walking distance
[5.2-43%]). Three studies (27%) assessed home-based training
alone and eight (73%) combined home-based, intramural
and/or extramural training. Only 6 studies (55%) had home-
based supervision and 4 (36%) were personalized. Exercise
compliance varied strongly (8.7-125%) as well as dropout (0-
65%). Treatment tolerance was described in 6 studies (55%)
and was not significantly lower for controls. Methodological
Fig. 1 (abstract P068) – Stopping rules of Parashar design / G1 : G8

14 /G2 : G8

14 / S1(S2): number of success in G1(G2).