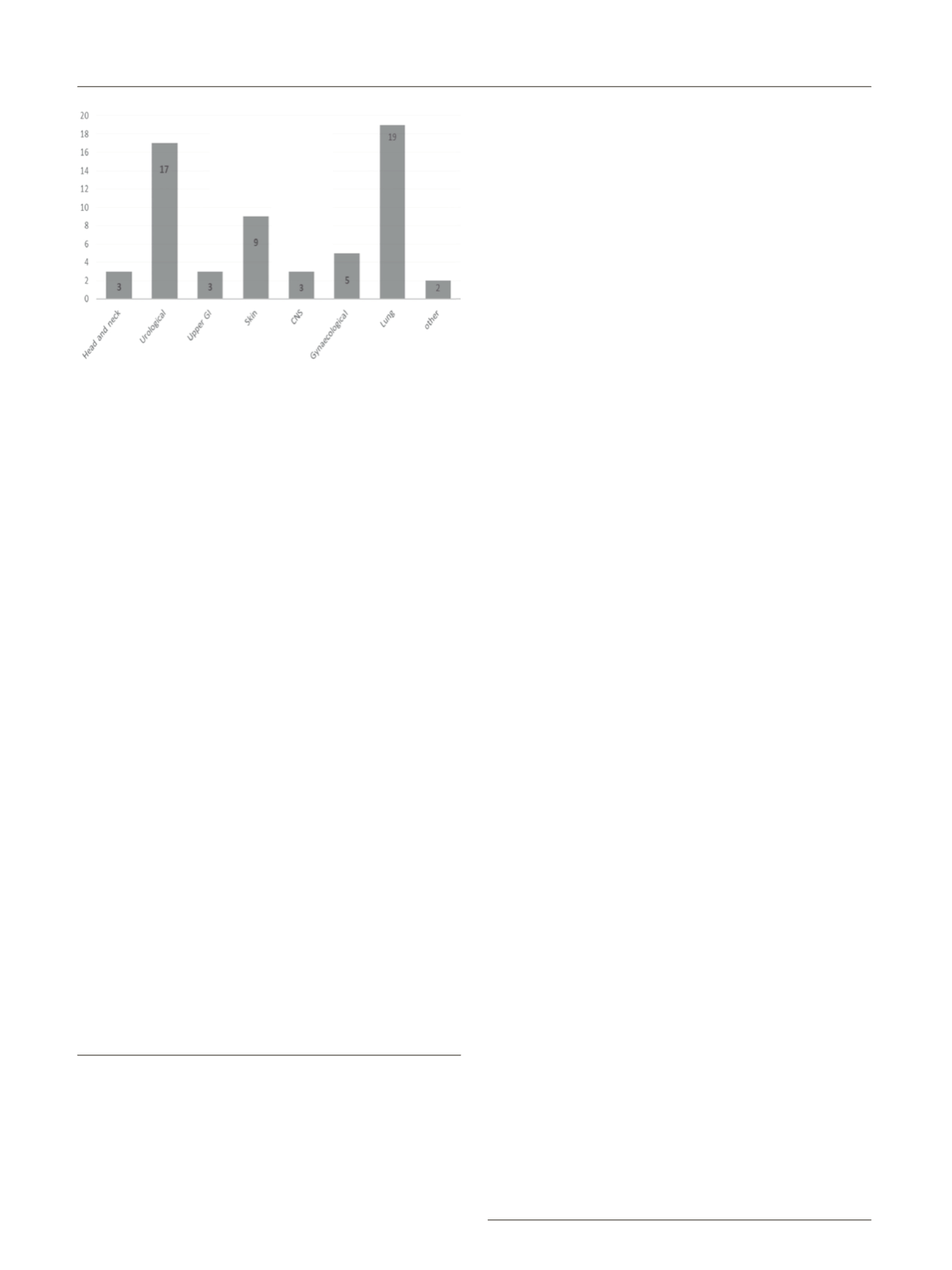 S74
A B S T R A C T S
standard.Two patients were treated with brachytherapy (one
in combination with external beam radiotherapy.) Six patient
were treated with stereotactic radiotherapy. Two patients
received concurrent chemotherapy (upper GI and rectal.)
41 (50%) of patients experienced grade 2 toxicity, and 8
(10%) of patients experiencing grade 3 toxicity including
oesophagitis, mucositis, cystitis and pneumonitis. 6 (7%)
of patients required admission during treatment; two due
to disease, one due to intercurrent illness and three due to
radiotherapy side effects.
Ninety day mortality was 4% (3) with a further two deaths
within one hundred days (with a median follow up of one
hundred and twenty six days.)
Conclusion:
A significant number of patients over 80
years are being treated with radiotherapy in our institution
and numbers appear to be increasing compared to previous
studies [1]. The ninety day mortality was low suggesting that
treatment was tolerable and patient selection was good. Rates
of low grade toxicity were quite high (mainly representing
skin toxicity) and may be underestimated due to retrospective
data collection. There may also be significant effects on older
patients which are not recorded using standard toxicity
criteria such as loss of muscle mass or general deconditioning.
Patients with lung cancer appeared to have increased
mortality compared to other disease sites although this may
be due to the small numbers in the series. This will be a focus
for further study.
Reference:
[1] Zachariah B, Balducci L, Venkattaramanabalaji GV, et al.
Radiotherapy for cancer patients aged 80 and Older: a
study of effectiveness and side-effects. Int J Rad Onc Biol
Phys. 1997;39:1125–9.
Disclosure of interest:
None declared
Keywords:
Elderly, radiotherapy
P065
HIDDEN PREOPERATIVE GERIATRICS SYNDROMES
IN PATIENTS WITH AMERICAN SOCIETY OF
ANESTHESIOLOGISTS CLASS III
A. Shahrokni
1,
*, B. M. Vishnevsky
2
, B. Korc_Grodzicki
3
1
Medicine/Geriatrics and Oncology, Memorial Sloan Kettering
Cancer Center,
2
Medicine, Weill Cornell Medical College,
3
Medicine/
Geriatrics, Memorial Sloan Kettering Cancer Center, NYC, USA
Introduction:
American Society of Anesthesiologists (ASA)
is a 5-category physical status classification system for the
assessment of patient's functional status before surgery. Most
of the time, ASA is the only physical status classification for
older cancer patients undergoing surgery.
Objectives:
Our study aims to correlate data on older cancer
patient's function obtained through geriatric assessment
(GA) with the distribution of preoperative ASA classification
and explore the hidden geriatric syndromes within the most
common ASA category.
Methods:
All
older cancer patients presenting to Memorial
Sloan Kettering-Geriatrics clinics for preoperative evaluation
completed GA in 2015. Functional status was assessed by
patient-rated Karnofsky Performance Scale (p-KPS), Activities
of Daily Living, instrumental Activities of Daily Living, falls
in the past year, use of assistive devices, Timed Up and Go
(TUG), and vision and hearing quality. ASA classification was
obtained from the anesthesiologist's note in the medical
chart.
Results:
In total 588 patients were evaluated. Among
those, 496 (84.4%) were classified as ASA class III (patient
with severe systemic disease) while ASA class II (patient with
mild systemic disease) and IV (patient with severe systemic
disease that is constant threat to life) were 7.8% each. Class
III patients had median age of 80. They were 49.6% female,
53% married, and 31.1% were living alone. Most common type
of cancers were genitourinary (27%), head and neck (14.1%),
and colorectal (12.3%). Evaluation of patient's functional
status using GA showed that patients classified as ASA
class III had p-KPS ranging from 40 to 100 (median 90). Most
common iADL dependencies were the need for transportation
(31.8%) and cleaning their homes (33.5%). Most common
ADL dependencies were walking outside home (35.3%) and
controlling urine/bowel movement (31.5%). At least 25% of
these patients experienced one fall. Cane and walker were
used by 20.4% and 10.5%, respectively. TUG was

20 seconds
in 9.2%. Poor vision and hearing were present in 5% and 14.7%
of patients.
Conclusion:
Significant majority of older cancer patients
undergoing surgery for the treatment of their cancer
were classified as ASA Physical Status class III. Patients in
this category had very heterogeneous levels of function.
Performing GA in this group may lead to a more accurate
surgical risk assessment. It also improves detection of
geriatrics syndromes which can be managed by syndrome-
specific interventions in the preoperative setting.
Disclosure of interest:
None declared
Keywords:
American Society of Anesthesiologists Functional
Status, functional assessment, geriatric assessment, surgery
Fig. 1 (abstract P064) – Radical radiotherapy by disease site.