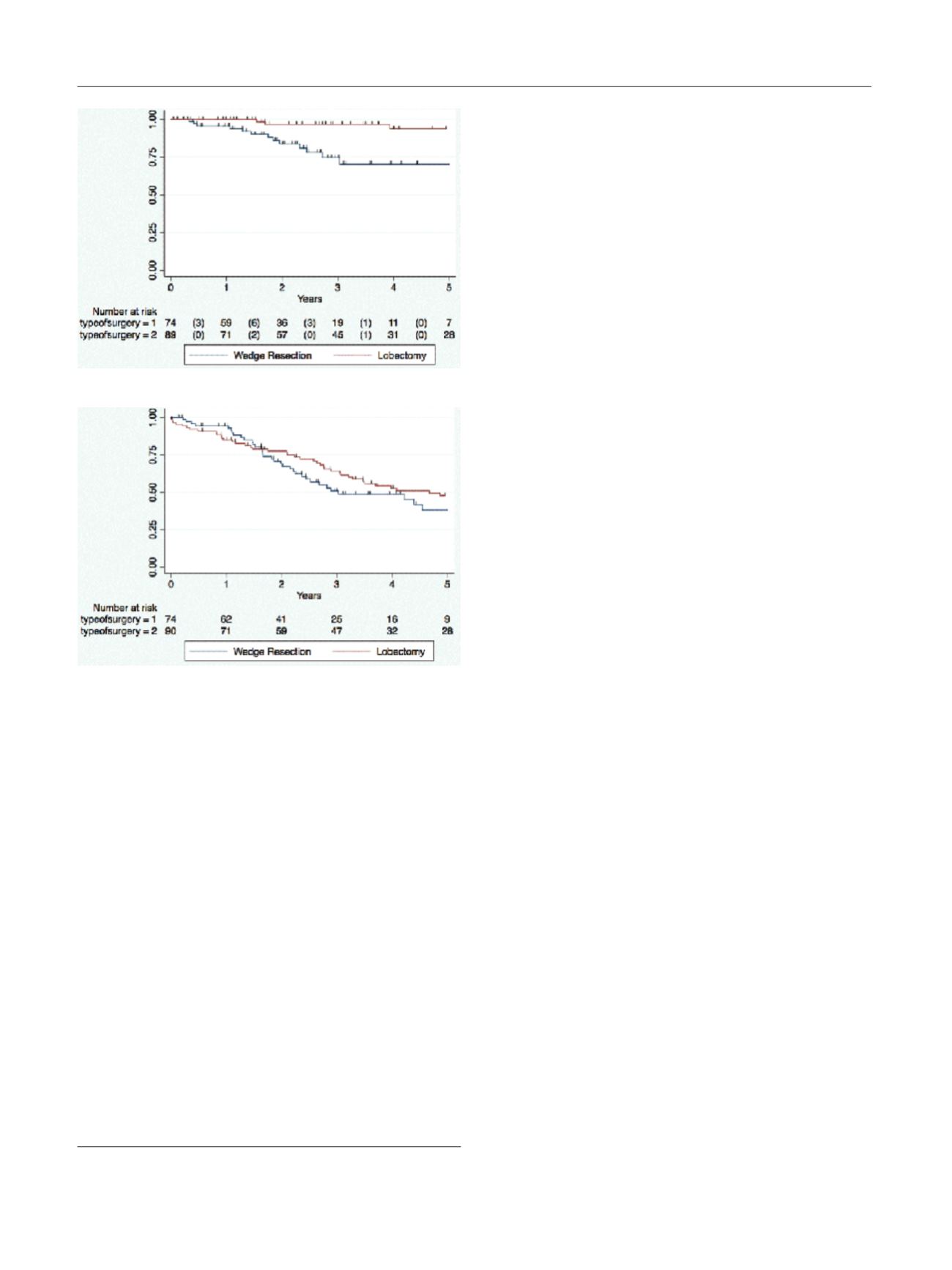 S82
A B S T R A C T S
Conclusion:
There is a significant difference in disease
free survival and time to recurrence between elderly patients
who undergo a limited resection compared to a lobectomy,
but no statistical difference in 5-year survival between the
groups. The benefit of limited resection in preserving lung
function and reducing post-operative recovery has been
counterbalanced by risk of recurrence. Salvage surgery can
still cure about half of the patients with recurrence.
References
:
[1] Ginsberg RJ, Rubinstein LV. Randomized trial of lobectomy
versus limited resection for T1 N0 non-small cell lung
cancer. Lung Cancer Study Group.
Ann Thorac Surg
. 1995
Sep;60(3):615-22
[2] Mery CM, Pappas AN, Bueno R, Colson YL, Linden P,
Sugarbaker DJ, Jaklitsch MT Similar long-term survival
of elderly patients with non-small cell lung cancer
treated with lobectomy or wedge resection within the
surveillance, epidemiology, and end results database.
Chest. 2005;128(1):237.
Disclosure of interest:
None declared
Keywords:
Elderly, local recurrence, lung cancer, recurrence,
salvage surgery
P078
EPITOP-01: ELDERLY CANCER PATIENTS, SAFETY AND
QUALITY OF LIFE UNDER IMMUNOTHERAPIES: A PHASE IV
TRIAL
R. Sabatier
1
, C. Zemmour
2
, S. Durand
3
, F. Goldwasser
4
,
F. Rousseau
1,
* and Société Francophone d'Oncocogériatrie
1
Medical Oncology,
2
Biostatistics,
3
Pharmacy, Institut Paoli
Calmettes, Marseille,
4
Medical Oncology, Hopital Cochin, Assistance
Publique Hôpitaux de Paris, Paris, France
Introduction:
Immunotherapies such as PD1/PD-L1 or
CTLA-4 inhibitors have been hugely developed in the last
years in many cancers. Most of published prospective data
related to immunotherapy have been focused on young
patients with only 5 to 10% of patients above 75 years. We
propose here to develop the first clinical study focused on the
impact of immunotherapies in the elderly population.
Objectives:
Our co-primary objectives will be to assess
the safety and quality of life under treatment. Secondary
objectives will be evaluations of geriatric data modifications
under treatment, efficacy, and correlation between toxicity and
efficacy. Another secondary objective will be the comparison
between patients and clinicians symptom reporting. We will
also conduct an ancillary pharmacokinetics analysis to explore
PDL1 inhibitors antibodies residual concentration impact.
Methods:
This phase 4, multi-centre, single arm, open-
label study will evaluate the safety and efficacy of immune
checkpoint inhibitors-based therapies in elderly patients with
advanced or metastatic solid tumours. To answer to primary
objectives, 300 patients are awaited. Subjects who consent to
participate will be enrolled if they meet the all the following
criteria: proven diagnosis of solid tumour, treatment with an
immune checkpoint inhibitor, age equal or over 70 years old,
and patients not included in another clinical trial assessing
immunotherapy efficacy. All patients receiving at least one
dose of treatment will be evaluable for safety, quality of
life, geriatric assessments, and efficacy data. Safety will
be evaluated using CTCAE V4 criteria for both clinical and
biological toxicities. Quality of life will be evaluated using the
EORTC QLQ-ELD14 questionnaire. Comprehensive geriatric
evaluations (including G8, ADL, IADL, GDS15, MNA, MMSE,
modified Charlson's score, Fried frailty criteria, maximal grip
strength, and one-legged stance test) will be performed at
inclusion. Additional optimized geriatric assessments (ADL,
IADL, GDS15, maximal grip strength, and one-legged stance)
will be done every 2 months until treatment discontinuation.
Efficacy (Progression –free survival and overall survival) will
be assessed using clinical and radiological (RECIST 1.1) criteria
every 2 months. CTCAE v4 questionnaires will be completed
by clinicians before every treatment cycle. Patients will also
complete a language adapted questionnaire (Basch E, Lancet
Oncol 2006). For all symptoms, both patients and clinicians
answers will be compared. Finally, residual PDL1 inhibitor
antibodies concentration before the second and fourth
treatment administration will be assessed. These results
will be compared to sarcopenia evaluation (using CT-scan)
and glomerular filtration rate measurement (using blood
creatinine and Cystatin C).
Fig. 1 (abstract P077) – Disease-free survival.
Fig. 2 (abstract P077) – Overall survival by type of surgery.