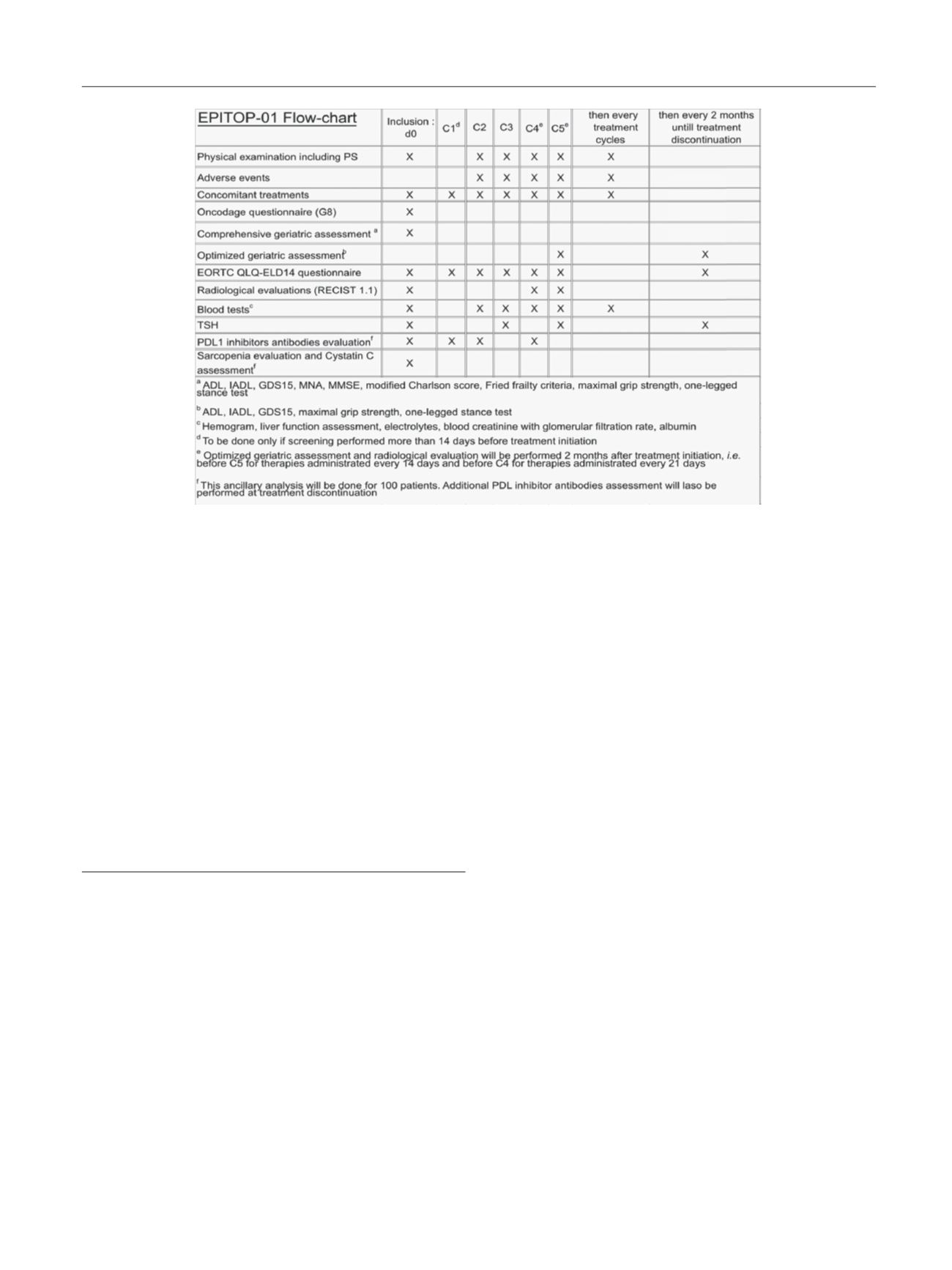 A B S T R A C T S
S83
Results:
Awaited study duration is 36 months including
24 months for inclusion and 1 year of follow-up after inclusion
of the last patient.
Conclusion:
Developing this program with real world
data, outside usual randomized clinical trials, will avoid the
selection bias of including only well-fit patients. By focusing
on toxicities, quality of life, and geriatric assessments, we aim
to evaluate the impact of these therapies on elderly patients'
daily life. As an exploratory objective we will also assess
the unknown pharmacokinetics specificities of immune
checkpoint inhibitors in this population, and thus aim to
improve treatment doses and administration schedules of
these therapies for the elderly population.
Disclosure of interest:
None declared
Keywords:
Solid tumours, immunotherapy, phase iv, quality
of life, safety
P079
PREDICTORS OF POSTOPERATIVE COMPLICATIONS
IN ELDERLY PATIENTS AGED 80 YEARS OR OLDER
UNDERGOING CANCER SURGERY
T. Karnakis
1,
*, L. A. Gil Junior
2
, A. L. Kanaji
1
, M. D. C. Sitta
3
,
M. C. B. Pereira
3
, W. Jacob Filho
3
1
Geriatrics,
2
ICESP,
3
Geriatrics, University of São Paulo, São Paulo,
Brazil
Introduction:
The growing number of older people with
cancer in daily practice demands a reflection of how to
optimize the perioperative period of these.This subject
was discussed in recent reviews, in which it was observed
that the overall survival of these patients independent of
age, and other factors such as functionality,estimate better
perioperative morbidity and mortality
Objectives:
Estimate predictors of postoperative complica-
tions in elderly patients aged 80 years or older undergoing
cancer surgery, as well, factors associated with mortality,
prolonged hospital stay and hospital readmissions.
Methods:
A retrospective study analysis medical records
of Geriatrics Clinic patients with 80 years or older who were
evaluated for surgical risk between 2013 and 2014 at Cancer
o Institute of São Paulo (ICESP). As independent variables
were used the values on the scales of Katz and Lawton, MET
(Equivalent Rate Metabolic), Mini Nutritional Assessment and
size estimation of surgery. While, as covariates were chosen
age, gender, comorbidities, number of medications, creatinine
clearance (Cockroft-Gault formula) and serum hemoglobin.
Statistical analysis proposed was to compare the groups with
and without postoperative complications in bivariate analysis
with Fisher's exact test for categorical variables and Student's
t test for interval variables
Results:
154 patientes were included. Mean age was
84.8 years (SD 3.71) and females accounted for 50.6%. As
for outcomes, there were 36 cases (23%) with postoperative
complication. The number of deaths was 11 patients in the
30 days after surgery and 15 patients, 10 of postoperative
complication group, readmitted in 30 days period after surgery.
The average hospital stay was 5.7 days (median 2.7), and the
group presented complications in the postoperative period
the average time was 13.2 days (median 6.9). The bivariate
analysis showed that surgery classification and functional
classification by Lawton scale was associated with the risk of
postoperative morbidity in this study
Conclusion:
Geriatric assessment of surgical risk in cancer
context provides data to assist in preoperative decision.
Other elements of geriatric assessment should be studied in
this specific population in order to better define a valuation
Fig. 1 (abstract P078) – EPITOP-01 Flowchart.